Yemen's rival military factions clash for first time
(Read article summary)
Rebel security forces led by Gen. Ali Mohsen Al Ahmar are seizing parts of Yemen's capital, Sanaa, but not without a fight from security forces loyal to President Ali Abdullah Saleh.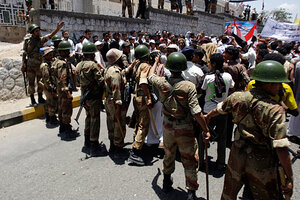 Khaled Abdullah/Reuters
• A daily summary of global reports on security issues.
Security forces loyal to Yemen President Ali Abdullah Saleh clashed for the first time Wednesday with forces loyal to former Army Gen. Ali Mohsen Al Ahmar, who defected weeks ago to support antigovernment protesters.
The rebel security forces were running a checkpoint outside Yemen's capital, Sanaa, when members of the Republican Guard and Central Security Forces – both loyal to Mr. Saleh – seized control of the checkpoint. The resulting battle left two soldiers dead, the BBC reported.
General Ahmar, Saleh's half-brother, announced on March 21 that his soldiers would begin protecting antigovernment demonstrators and joined the opposition's calls for Saleh to step down. Several high-ranking military officials followed Ahmar, The Christian Science Monitor reported.
---