Libya says European military advisers for rebels will extend fighting
(Read article summary)
The British and French decision to send advisory forces to Libya stoked concerns about mission creep and accusations from Libya's government of overstepping the UN mandate.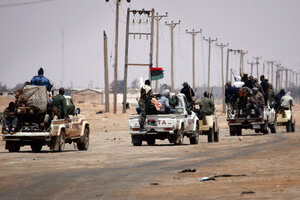 Nasser Nasser/AP
• A daily summary of global reports on security issues.
Libya's foreign minister warned Tuesday that Britain's decision to send troops to Libya to advise the rebels would draw out the conflict and hamper attempts at dialogue.
Abdul Ati al-Obeidi, the foreign minister, said that the arrival of the foreign troops would derail progress on a cease-fire, which includes plans for a UN-supervised election, the BBC reported. Mr. Obeidi said the UK, France, and Italy have been obstacles to the Libyan government's efforts to work with the international community toward a cease-fire.
"We think any military presence is a step backwards and we are sure that if this bombing stopped and there is a real cease-fire we could have a dialogue among all Libyans about what they want – democracy, political reform, constitution, election. This could not be done with what is going on now," he said.
According to British Foreign Secretary William Hague, the British team of 10 will be working with the rebels to "improve their military organizational structures, communications, and logistics" and will not take part in any fighting, the BBC reported. France announced today that 10 French officers will join the British team.
---