Is the Libya mission creeping? Is that wrong?
(Read article summary)
With the UK and France now sending military advisers to assist Libya's rebels, critics warn of mission creep. Would that be such a bad thing?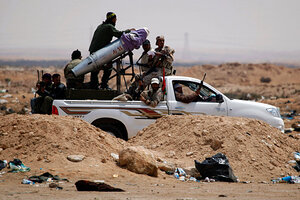 Nasser Nasser/AP
"Mission creep" is the phrase of the week in arguments over what to do, or not do, about Libya, spurred on by news that France and the UK are sending military advisers to assist Libya's rebels in their war to oust strongman Muammar Qaddafi.
It's muttered by supporters of international action who nevertheless fret that ground troops could lead to a "quagmire" (another word back in vogue), warned of as potential agent of destruction (for instance, Monday's "We must beware mission creep in Libya" editorial from The Daily Telegraph) and played like a winning card in Twitter fights over the rights and wrongs of intervention. "Mission creep!" in a tweet, to some, wins the argument.
Clearly, mission creep is happening now.
UN Security Council Resolution 1973 calls for the international community "to take all necessary measures ... to protect civilians and civilian populated areas under threat of attack in the Libyan Arab Jamahiriya, including Benghazi, while excluding a foreign occupation force of any form on any part of Libyan territory."
It makes no mention of removing Mr. Qaddafi from power. But now the UK and France are putting boots on the ground, expressly in support of a rebellion committed to regime change. The UK says it will simply be providing organizational and communications support to the rebels.
French President Nicolas Sarkozy, who is meeting today in Paris with Libya rebel council leader Mustafa Abdel Jalil, hasn't laid out publicly what French troops are doing.
While Western powers clearly see wiggle room in the "take all necessary measures ... to protect civilians" bit – under the logic that civilians aren't safe as long as Qaddafi remains in power – the move to send military trainers does sound an awful lot like mission creep. But is such a training mission for the Libyan rebels, carried out by the French or the Americans or anyone that's capable, necessarily a bad thing?
I was in Benghazi in the weeks before and after the UN decision was made. I was shot at by Qaddafi's forces as they assaulted Benghazi on the morning of March 19, hours before French warplanes decisively struck Qaddafi's tanks and rocket-launchers at the edge of town.
---