US steps back from Libya, shifting burden to Europe
In order to sustain operations, experts say France and Britain need to forge a broader European consensus on Libya intervention.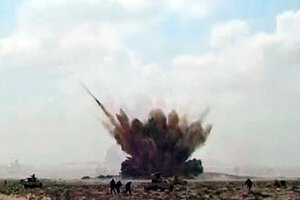 Amateur Video via Reuters TV/Reuters
With the US military ending its airstrikes in Libya this week, France and Britain are taking the lead in an increasingly chaotic and confusing desert theater.
For the first time in NATO's 62-year history, Uncle Sam is not on the front lines directing the show, but will play a back-up role that includes aerial refueling and emergency support. The unprecedented move accords with longstanding US calls for other nations within the alliance to share the burden on the international scene.
But the effect is slightly jolting in European capitals that have often talked of military leadership but have rarely followed through, or needed to.
IN PICTURES: Libya conflict
For Europe, taking the lead on Libya – a conflict still hazy on aims and outcomes – is a "wake-up call," say analysts. It is also seen on this side of the Atlantic as a sign of things to come as the US faces budgetary convulsions and global overreach.
"It is a big wake-up call," says Alexis Crow of Chatham House in London. "It means Europe is going to have to cooperate more with Europe. America's immense deficit is playing a role here."
The wake-up call for France and Britain
---