Libya's rebels: NATO isn't doing enough for us
(Read article summary)
Libya's rebels claim that since diplomatic efforts got under way, NATO's military campaign has eased – at a cost to rebel and civilian lives.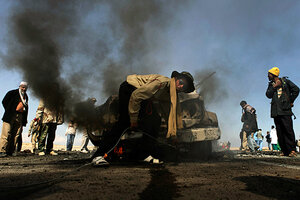 Altaf Qadri/AP
• A daily summary of global reports on security issues.
Libyan rebels retreating from their positions outside the oil town of Brega and facing heavy fighting elsewhere in the country have accused NATO forces of not providing enough air support and failing to protect civilians.
The complaint comes as international players involved in Libya increase their efforts to resolve the situation through diplomatic means. Many rebels say the coalition's shift to negotiations has led to a decline in NATO's military campaign, a move that rebels say is costing lives.
Gen. Abdul Fattah Younis, Libya's rebel commander and Col. Muammar Qaddafi's former interior minister, said NATO forces were "not doing anything." He complained that an overly bureaucratic process has created a system that keeps NATO jets from responding to developing situations for hours. He also faulted NATO for limited actions in Misratah, the only large city in western Libya still under the control of antigovernment forces, which he said were at risk for "extermination."
"If NATO should wait another week, there will be no more Misratah," said General Younis in an article by BBC. "You will not find anyone."
Younis's sentiments run deep amid the rank and file of the Libyan rebels. After suffering their first major territorial loss to government forces in almost a week, many rebels say they felt let down by NATO, reports The Wall Street Journal. Rebels had held their lines in Brega for three days when government forces began shelling their position and they had to retreat.
"Ever since Qaddafi started looking for a way out, negotiating for an end, NATO has backed off," said Abdallah Daboob, a rebel fighter who retreated from Brega. "Our question for NATO is this: are you with us or against us?"
---