US, UN poised for diplomatic assault on Syria's Assad
(Read article summary)
The US is expected to call for Bashar al-Assad to step down and UN Secretary-General Ban Ki-Moon will push for International Criminal Court action against the Syrian president.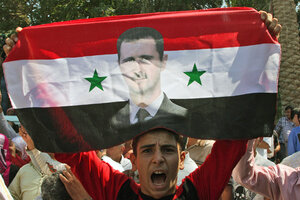 Bassem Tellawi/AP
• A daily summary of global reports on security issues.
Syria's government is set to come under diplomatic assault today as the United Nations and United States prepare to take decisive actions against the regime. The two-pronged attack comes on the heels of comments from Turkey that make clear its overtures to its neighbor are over.
Associated Press sources say that today the White House will call on Bashar al-Assad, the Syrian president who has presided over a brutal five-month crackdown on protesters in his country, to leave office.
The US previously said that President Assad has lost his legitimacy as a leader. The call for him to leave office would have come sooner, but Turkey, Syria's neighbor, asked for time to try to persuade Assad to reform and the US wanted to act with a global consensus against the autocrat, the AP reports.
"It is not going to be any news if the United States says Assad needs to go," Secretary of State Hillary Clinton said Tuesday. "OK, fine, what's next? If other people say it, if Turkey says it, if [Saudi] King Abdullah says it, there is no way the Assad regime can ignore it."
---