US ambassador to Afghanistan downplays Kabul attack as security doubts grow
(Read article summary)
Although Ambassador Crocker downplayed Tuesday's Kabul attack as 'not a very big deal,' they may have undermined US and Afghan assertions that Kabul's security situation is stable.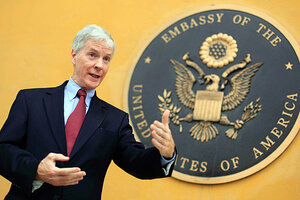 Rafiq Maqbool/AP
• A daily summary of global reports on security issues.
Afghan police brought a 20-hour insurgent attack in Kabul to an end Wednesday morning. Soon after, the US ambassador to Afghanistan downplayed the attack as "not a very big deal."
But the Kabul attack, which targeted the US Embassy and NATO compounds in the city, raises concern about the stability as the US-led military coalition in Afghanistan prepares to hand over responsibilities to Afghan security forces. Ambassador Ryan Crocker said the attack will not change those plans, which are critical to the coalition's exit strategy, according to the Associated Press.
According to Agence France-Presse, 14 people were killed throughout the city in the attack. At least six rocket-propelled grenades landed in the embassy compound, although there were only a few injuries. The Taliban claimed responsibility for the attack, but Mr. Crocker said he believed that the Pakistan-based Haqqani network was behind it.
---