Killings in Homs fuel skepticism over Syria peace accord
(Read article summary)
Syrian forces reportedly killed as many as seven people in Homs today, just one day after Syria agreed to a peace accord that called for withdrawing tanks from the streets.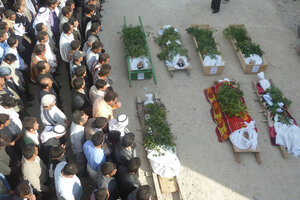 Reuters
Syrian forces have reportedly killed as many as seven people in Homs, less than a day after Damascus agreed to withdraw its tanks from the streets under an Arab League plan to end the upheaval in Syria. The continuing violence has further fueled international skepticism over Syrian President Bashar Al-Assad's commitment to peace and raised concerns that the Arab League agreement lacks any enforcement clause.
The British-based Syrian Observatory for Human Rights says that Syrian tanks mounted with machine guns killed four people in the city of Homs Thursday, according to the Associated Press. Syrian Observatory chief Rami Abdul-Rahman said the tally was gathered from witnesses in the city.
Activists also posted video of tanks firing on a building, reportedly in Homs today, according to the Guardian's live Syria blog, though it is not possible to authenticate the video since Syria is largely closed to foreign and independent journalists.
The ongoing attacks in Homs appear to violate the Arab League plan that Syria agreed to yesterday. The Daily Star of Lebanon summarizes the plan's main points as follows:
1: - Complete halt to the violence, whatever its origin, to protect Syrian civilians.

2: - Release of people detained as a result of the recent events.

3: - Withdrawal of every type of military presence from towns and residential districts.

4: - Allow concerned organizations from the Arab League, Arab and international media to move freely throughout Syria and find out the reality of the situation.
---