2011 Michael L. Printz awards: here are the winners
The Michael L. Printz Award is given for excellence in literature written for young adults. Dark, challenging, compelling – these are books that pack a punch even as they keep young readers turning the pages.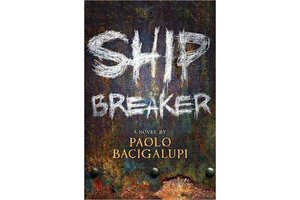 1.

Ship Breaker, by Paolo Bacigalupi

"Ship Breaker," by Paolo Bacigalupi (Little, Brown and Company, 336 pp.) is the 2011 Printz Award winner. The protagonist of this post-apocalyptic tale is Nailer, a teenager who must eke out a paycheck scavenging archaic oil tankers on the Gulf coast. When Nailer discovers an abandoned ship full of valuable goods, he is thrust into a moral dilemma that resolves itself through fast-paced plot twists packed with adventure, fighting, and even murder.