Baseball books: 9 personal favorites
Baseball has been very very good to books. Sure, people like to read about football, basketball, and even (gasp) golf. But no professional athletes seem to have inspired as many words between covers as the boys of summer. The sheer volume of baseball books makes it hard to put together any kind of "best of" list. But I decided to give it a try, enlisting the help of two professional sportswriters (both women, for a fresh perspective). They suggested three personal favorites and then I added three of my own.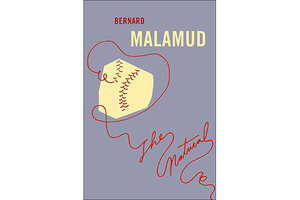 1.

The Natural, by Bernard Malamud

Susan Fornoff, freelance writer and former sportswriter for The Sacramento Bee, told me: "I took a sports fiction class in college where we read 'The Natural' a wonderful novel that transcends baseball and resonates with strong themes of life, dreams, friendship and so forth."