8 best books of May: Amazon editors choose
It's the month of Mother's Day, commencement addresses, cookouts, and the Indianapolis 500 – not quite summer but deep into spring. What should you be reading? If you ask the Amazon editors, here's what they will tell you are the very best titles of May 2011.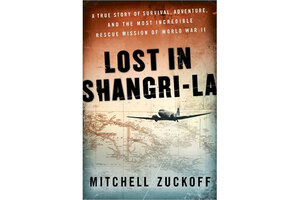 1.

"Lost in Shangri-La," by Mitchell Zuckoff

Are there really any World War II stories left to be told? Yes – and here's a good one. Toward the end of the war, a plane carrying 24 members of the United States military, including nine WACs, crashed into the New Guinea jungle. The three survivors – two men and a woman – found themselves in world almost unchanged since the Stone Age. Monitor reviewer Kelly Nuxoll notes that ' "Lost in Shangri-La" might be particularly enjoyed in a book group, in which its human themes could be teased out and discussed, or among World War II buffs seeking to add a quirky subplot to their knowledge of the Pacific theater."