Battle of the e-readers: who wins?
Who thought that reading could be this much fun? Yes, this activity is still timeless, but e-readers (tablet-like devices used for reading electronic versions of books and periodicals) are taking the personal technology world by storm. Many e-readers have been put up for sale, but four companies have emerged to dominate this field. Keep reading to find out who comes out on top!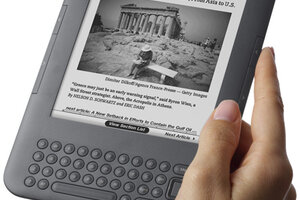 1.

Amazon's Kindle

The e-reader craze began when online shopping giant Amazon.com released its first-generation e-reader, the Kindle, in late 2007. About as thin as a pencil, the lightweight and slim device utilizes a special "e-ink" to prevent glare, which makes it easy to read outside in the sun. Although it had to add Wi-Fi and 3G connectivity to keep up with the market, the Kindle separates itself from competitors with its super-long battery life: one to two months from just a single charge.

The Amazon Kindle starts at $139.