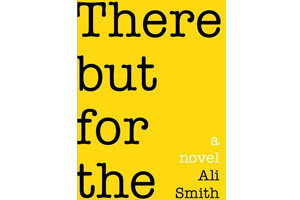 2.

"There But For The," by Ali Smith

A guest at a Greenwich dinner party locks himself in an upstairs bedroom and refuses to come out in Ali Smith's agile new four-part novel, There but for the, which, in its own way, asks for as big a suspension of disbelief as "The Leftovers." (Even in as cripplingly polite a society as fictional England, a locksmith could have found a way to roust Miles Garth out of the spare room.)

The guest who refuses to leave has a long and storied lineage, from Bill Murray in "What About Bob" to 1939's "The Man Who Came to Dinner." Miles's snooty hostess, Genevieve Lee, won't break down the door, which is "believed to be 18th century."

Instead of calling the police, Genevieve contacts a reporter. ("A stranger is living in our house against our will.") After the article is published, people congregate outside the Lees' home, turning "Milo" into a cause célèbre.

As "There but for the" plays out, Miles is seen through the eyes of Anna, who knew him briefly when they were teenagers; Mark, the man who invited Miles to the party; May, a woman in her 80s; and Brooke, a precocious 9-year-old who is the Lees' neighbor. The party itself is the novel's satirical set-piece, descending into impressive depths of awkwardness before dessert.

"There but for the" isn't for every reader. Not much happens, by design, and Miles himself remains practically invisible behind the locked door. But for a reader who delights in word play (Mark is haunted by his long-dead mother, who speaks only in rhyming couplets), puns (the Lees, for instance, are "Gen" and "Eric"), and the music of Gershwin, Smith offers an unpredictable wit and plenty of insights. Take a comment about the title of the second section: "but the thing I particularly like about the word 'but', now that I think about it, is that it always takes you off to the side, and where it takes you is always interesting."

Smith, as the young Miles quips, "only jokes about serious things." Isolation is a recurring theme, with Mark noting that the Internet offers "a whole new way of feeling lonely." Anna used to work at the Orwellian-named Center for Temporary Permanence, where she was lauded for having "exactly the right kind of absent presence." While none of the narrators know Miles well, Smith uses their glancing connections to create the next word in the title phrase: grace.

Brooke, who loves running and puns and is being bullied at school, determines that instead of being the "cleverest," she will become a "cleverist " – a title her creator has already earned.