Banned Books Week 2011: Top 10 most challenged books of 2010
Each year during Banned Books Week, the American Library Association tells us which titles available in public US libraries and schools received the most complaints or challenges during the previous year. In 2010, it seems, it was modern bestsellers – rather than classics from earlier decades – that provoked the most heat. Banned Books Week 2011 is being observed from Sept. 24 - Oct. 1.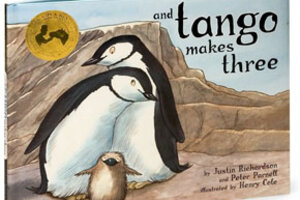 1.

"And Tango Makes Three" by Peter Parnell and Justin Richardson

For the fifth year in a row, this true story of two male penguins in the Central Park Zoo who come together to raise a chick has topped the list of most challenged books. Charges made against "And Tango Makes Three" include "homosexuality, religious viewpoint and [unsuitability] to age group." The book is recommended for readers from preschool to grade 3.