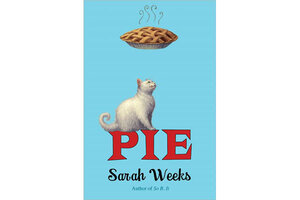 2.

"Pie," by Sarah Weeks

In Pie (Scholastic, 192 pp., recommended for readers ages 8-12), Sarah Weeks takes readers to Ipswitch, Pa., where young Alice is carefully watching her leopard-print-wearing aunt, Polly Portman, bake top-secret, prize-winning pies. They're free to all the townspeople who in turn bring her fresh ingredients. Everybody adores Polly and her pies.

But Aunt Polly's early demise sends the town atwitter. Her favorite niece misses her so much it hurts. The pie-baking world is devastated. Word spreads that Aunt Polly's fat cat Lardo has been bequeathed the secret crust recipe. Niece Alice inherits Lardo. And so the fun begins. As this delightful caper progresses, some of Polly's fans attempt to duplicate her pies, while others plot to snitch her crust recipe.

Sprinkled with enticing pie recipes, "Pie" is topped with a plucky redhead and a pinch of mystery. This one will particularly appeal to young readers in search of a deliciously old-fashioned story filled to the brim with fun.