Mark Twain quotes: 10 favorites on his birthday
William Faulkner called him "…the first truly American writer." Ernest Hemingway declared that all American writing comes from "Huckleberry Finn," and "there has been nothing as good since." And Norman Mailer said "Huck Finn" stands up "page for page" to the "best modern American novels." Wednesday marks the 176th anniversary of the birth of the matchless Samuel Clemens, who wrote under the pen name Mark Twain. His genius lay in his distinctive ability to convey profound wisdom and profane wit in the same breath. Here, in tribute to the man Faulkner called the "father of American literature," are 10 quotes from Mark Twain.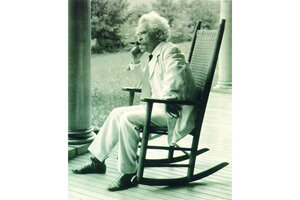 1.

A recipe for contentment

"Good friends, good books and a sleepy conscience: this is the ideal life."