7 children's picture books we think you'll really like
Samuel Johnson once famously noted that a man who is tired of London "is tired of life." Some of us feel the same way about children's picture books. While it's true that many cover familiar ground – animals, the great outdoors, adventures with family and friends – no two ever do so in quite the same way. And the best of them rediscover the world with such a fresh and inspired gaze that they turn even the most adult of us into children all over again.
Some of the gems that have arrived in bookstores this season include a couple of classic winter tales, a retold Aesop's fable, poetry about dogs, a baby penguin, and a chicken awash in blue ink.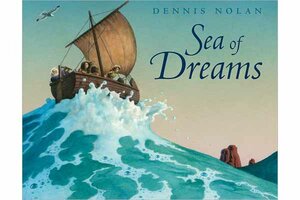 1.

"Sea of Dreams," by Dennis Nolan

But readers who prefer nonverbal adventures – and the best of picture books do render words superfluous – might want to start with Sea of Dreams (Roaring Brook Press, 40 pp.), a magical oceanside fantasy by award-winning author and illustrator Dennis Nolan ("Dinosaur Dream"). In vibrant colors, Nolan tells the story of a little girl who builds an elaborate sand castle, and then must leave it for the night, when its tiny inhabitants emerge to enact a fascinating nautical drama of their own. The little girl returns the next morning – and unwittingly helps the magic to begin again.