10 things I learned about Walter Payton
As another Super Bowl comes on Sunday, it's a good time to remember one of the football greats. From a moment of showing off that may have cost him college football offers to driving with Paul Newman, here are 10 memorable Payton stories from the new biography 'Sweetness: The Enigmatic Life of Walter Payton' by Jeff Pearlman.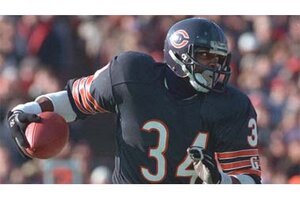 1.

Why did big-time Southern schools pass over Payton?

If Payton were in high school today, surely a team in the mighty Southeastern Conference would make a major effort to recruit him – and would probably land him. But as he emerged from Columbia High School in Columbia, Miss., in the early 1970s, SEC football programs were just starting to integrate. Alabama didn't sign its first black player until 1971 and Mississippi not until 1972.

Some major Southern schools that were naturals to recruit the all-state Mississippi running back reportedly were turned off by Payton's indulging in a little showboating during a high school game in which he jogged backward into the end zone while holding the ball in the air. Thrusting the ball aloft while scoring touchdowns later became Payton's signature move.