Susan B. Anthony: 10 quotes on her birthday
A Massachusetts native, Susan Brownell Anthony was inspired early on to fight for women's rights when she worked as a teacher and male educators earned almost four times more than female teachers. While best known for her advocacy in getting the vote for women with her close friend Elizabeth Cady Stanton, Anthony was also active in the battle for temperance and abolition. While initially shy about public speaking, she eventually became a celebrated orator. To commemorate her 192nd birthday on Feb. 15, here are 10 quotes from the famous activist.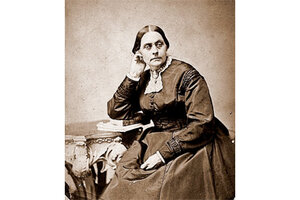 1.

Religion

"I always distrust people who know so much about what God wants them to do to their fellows."