'John Carter': 11 other adaptations of Edgar Rice Burroughs novels
The hero created by Edgar Rice Burroughs – a man named John Carter who fought in the Confederate Army and then traveled to Mars – arrives in theaters this week in the film 'John Carter.' But John Carter is not the first of the prolific author's characters to make it to Hollywood. Here are 11 of the best-known film and TV adaptations of Burroughs' work.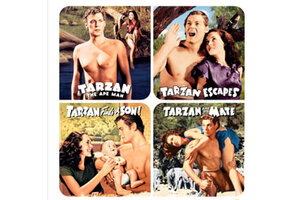 1.

'Tarzan the Ape Man'

After several silent movies and film serials based on Burroughs' books about the title character, the movie "Tarzan the Ape Man" was made in 1932, starring actor Johnny Weissmuller as Tarzan and Maureen O'Sullivan as his love interest Jane. The movie spawned many sequels also starring Weissmuller, some of which included O'Sullivan as well. In the movies, Tarzan's trademark cry was created by audio effects which reportedly included a yodel played backward.