10 stories from Frank Langella about his famous friends
Langella has juggled a fascinating career, bouncing back and forth between stage and screen ever since he first began appearing off and on Broadway in the 1960s. His breakthrough film was "Dracula" (1977). Recently won a Tony (2006) and an Oscar (2008) for his portrayal of Richard Nixon on both stage and screen in "Frost/Nixon." Throughout his years in Hollywood and elsewhere, Langella has met celebrities a-plenty and is now sharing some of those stories in his new memoir, Dropped Names.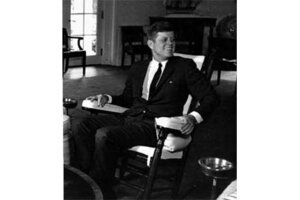 1.

John F. Kennedy

Langella went over to a friend's house for lunch in Osterville, Mass. and discovered that also on the guest list were the president, Jacqueline Kennedy, Noel Coward, and Fred Astaire's sister Adele. When Coward began singing and accompanying himself on the piano, Astaire and John F. Kennedy started to dance. "His face was blissfully silly as he feigned a nightclub entertainer and tried to mirror Adele's moves," Langella wrote. "Before boarding the helicopter the President said to me: 'What do you think, Frank? Should I keep my day job?'"