Tiger Woods: 8 memories from his swing coach
Hank Haney's new book, "The Big Miss: My Years Coaching Tiger Woods" – recently called an "ethical violation" by a fellow swing coach to the pros – discusses Haney's six years as Tiger Wood's coach, during which Woods won six majors in six years. Haney recalls his memories of Woods on and off the golf green in "The Big Miss."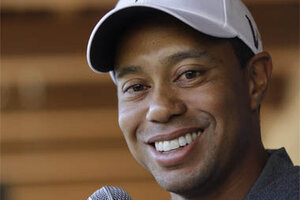 1.

The first meeting with Haney as coach

Haney already knew Woods, having been acquainted with Woods' former coach Butch Harmon, and had even offered him some advice on his swing occasionally. After Woods called Haney and asked him to help him out with his game, Haney went to Woods' Florida home. When Haney arrived, Woods told him that there were a few things Haney had taught professional golfer Mark O'Meara that he disagreed with, including Haney's telling Harmon to limit his head movement to the right on a backswing. (It was a strategy on which Haney said he eventually won Tiger over.) But Haney says he wasn't thrown by Woods' criticism. "I realized right away that he was going to be a difficult student, that he wasn't going to just accept everything I said," Haney wrote. "But I was also thinking, 'I like this. This is going to be a challenge.... This is going to be an incredible learning experience.'"