10 best self-help books of all time
Think the past few decades were the start of the self-improvement craze? Bibliophiles can look back at least to the 18th century when it comes to books written to help others improve themselves. Benjamin Franklin's autobiography today remains for many a master class in how to live a life that is "healthy, wealthy and wise." Self-help is a subjective field, so a treatise that motivates and wins over one reader may fall flat for another. Nonetheless, here are our picks for 10 of the best self-help books of all time, in no particular order.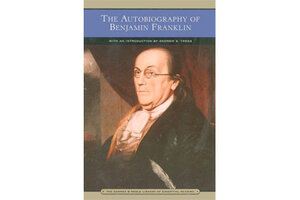 1.

'The Autobiography of Benjamin Franklin,' by Benjamin Franklin

Franklin's account of his own life never seems to go out of style. Today, more than three centuries after his birth, "The Autobiography of Benjamin Franklin" remains a popular read, scoring four out of five stars among enthusiastic Amazon readers.

For many, it is the life story of Franklin – who started as an apprentice to his older brother, a printer, and rose to be one of the most famous statesmen and writers in the world – that is inspirational. Franklin is not shy about praising himself (some readers have noted with amusement the number of times that Franklin praises his own humility) but for others his discussion of the virtues likely to lead to success in life comes across as instructive rather than braggadocious. Many readers over the years have also expressed appreciation for the degree to which Franklin comes face to face with his own errors as he tells his story.

The book – which Franklin originally intended to call "Memoirs" – was never finished and was not published until after his death in 1790. It was first published in Paris, in a French translation, and is sometimes credited with being the first book by an American ever taken seriously by European readers. Divided into four parts, the book covers the years 1771 to 1790 in Franklin's life.

Many readers say they find the book charming, in large part because Franklin's voice is accessible and engaging. However, many are also attracted to the degree to which Franklin seems practically engaged with the business of self-improvement. The book includes a section in which Franklin makes a list of 13 virtues he wants to emulate and draws a box for each for each day, putting a black mark in a box if he did not succeed. It is impossible to guesstimate the number of readers – and self-help authors – who have been inspired by his method over the course of decades.