10 best Avengers of all time
As I wait for the premiere of "The Avengers" movie, being a longtime fan of the comic book on which it's based, I've made a list of the top 10 members of Marvel Comics' premiere super team. There have been dozens of heroes that have come and gone, but here's the group that is tops in my book.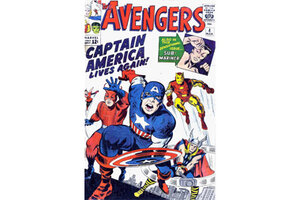 1.

Captain America

Steve Rogers was the United States' super soldier during World War II. He volunteered for an experiment which gave him superhuman strength and agility. Armed with a near unbreakable shield, he battled the Axis of Evil. Towards the end of the war, he jumped onto a Nazi drone plane, and when the plane exploded, Cap was thrown into icy Arctic waters, where he was frozen for years until he was rescued by the Avengers. Despite being the weakest member, Cap quickly became the leader of the team. His leadership has guided the Avengers through many incarnations, the rock they all look up to.