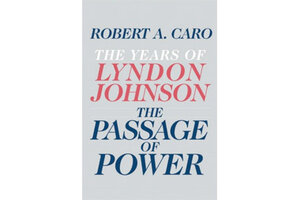 2.

HARDCOVER NONFICTION

1. The Passage of Power: The Years of Lyndon Johnson, by Robert A. Caro, Knopf
2. Lots of Candles, Plenty of Cake, by Anna Quindlen, Random House
3. Drift, by Rachel Maddow, Crown
4. Wild, by Cheryl Strayed, Knopf
5. End This Depression Now!, by Paul Krugman, Norton
6. Are You My Mother?: A Comic Drama, by Alison Bechdel, Houghton Mifflin Harcourt
7. Prague Winter, by Madeleine Albright, Harper
8. Imagine, by Jonah Lehrer, Houghton Mifflin Harcourt
9. Let's Pretend This Never Happened, by Jenny Lawson, Amy Einhorn Books/Putnam
10. The Power of Habit, by Charles Duhigg, Random House
11. Unbroken, by Laura Hillenbrand, Random House
12. Quiet, by Susan Cain, Crown
13. Manhunt: The Ten-Year Search for Bin Laden--From 9/11 to Abbottabad, by Peter L. Bergen, Crown
14. The Presidents Club, by Nancy Gibbs, Michael Duffy, S&S
15. My Cross to Bear, by Gregg Allman, Morrow

ON THE RISE:
18. When Women Were Birds, by Terry Tempest Williams, Angela Williams, FSG
Williams's lyrical and caring meditation of the mystery of her mother's journals.