7 stories from Andy Cohen's new memoir
Andy Cohen, the executive vice-president of development and programming at the cable television channel Bravo and host of "Watch What Happens Live," has been behind some of the biggest reality hits for Bravo, including the "Real Housewives" franchise, "Project Runway" and others. And in his show "Watch What Happens," he talks with guests from the channel's TV shows as well as other famous faces that come by for the evening. In his new book 'Most Talkative,' Cohen discusses how he got his start, what went into developing some of TV's most popular reality hits, and getting to know the stars. Here are seven of his stories.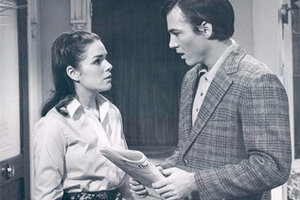 1.

Pine Valley and reality

When Cohen was a student at Boston University, he secured an interview with "All My Children" star Susan Lucci after receiving a classroom assignment to do a story on one of his idols. Cohen was also doing a paper on whether Pine Valley, the setting of "Children," was an accurate representation of society, so before the interview, he stood outside the studio where the show was filmed and waited for the actors so he could ask them what they thought. "'IS PINE VALLEY AN ACCURATE REFLECTION OF SOCIETY?!' I yell at every familiar face in a high-pitched panic," Cohen wrote. "They are all initially terrified and must take a moment to process what is happening: overly hyper kid with tape recorder and 'fro yelling stupid question... Their answers are gripping: 'Not really.' 'No.' 'Maybe.'"