Prince William: 8 stories from the new book 'The Man Who Will Be King'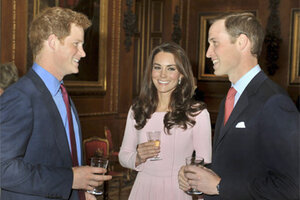 8.

The relationship between Princes William and Harry

Junor writes that the two princes seem to have a very close relationship, often laughing at and teasing one another. When they did an interview about a time when they lived together for six months as adults, Prince William complained that Prince Harry always left him to do the dishes. "Oh the lies, the lies," Prince Harry replied. On another occasion, the two visited the country's soccer team after England played Algeria in the World Cup, and Prince William was asked how their visit to the locker room had gone. "We tried to raise their spirits," Prince William said. "I used some of my analogies from the military, they've got more to go, they're strong players; I did my best to gee them up." "Oh, they'll have really enjoyed being told how to play better by a posh soldier!" Prince Harry told him.