John F. Kennedy: 15 quotes on his birthday
John F. Kennedy was assassinated two years into his first term of office. Had he lived, there is no telling what the 35th President of the United States would have been able to accomplish. In his short time as Commander in Chief he launched the space program, diffused the Cuban Missile Crisis, and introduced crucial Civil Rights legislation. Kennedy was born on May 29, 1917. To mark what would have been his 95th birthday, here are 15 memorable JFK quotes.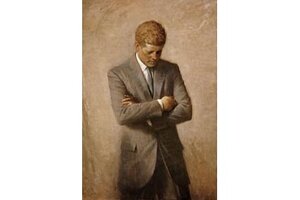 By Aaron Shikler (The White House Historical Association) [Public domain], via Wikimedia Commons
1.

Forgive don't forget

Forgive your enemies, but never forget their names.