Richard Scarry's 10 best books
Children's author Richard Scarry became known for his books centering on Busytown, hometown to a cluster of delightfully anthropomorphic animals, who – much like their human counterparts – are prone to various misadventures. Here, to celebrate what would have been Scarry's 93rd birthday on June 15, 2012, is our list (in no particular order) of his 10 best titles.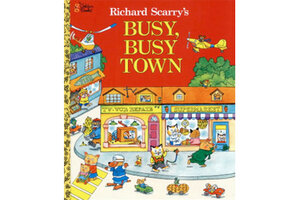 1.

'Busy, Busy Town'

"Busy, Busy Town" illustrates the doings of Busytown on a normal day where all Scarry's animal characters are hard at work, doing everything from taking care of the money at the bank to sorting mail at the post office to having checkups at the doctor's office.