Herman Melville: 10 quotes on his birthday
Herman Melville, the American author best known for the masterpiece,"Moby-Dick," was born on August 1, 1819, in New York City. Melville lost his father in 1832, and began working in the family business with his older brother. Melville began writing in the mid 1830s, but because of the family's tight financial circumstances, he was not able to focus on it. When the family business went bankrupt, Melville's older brother arranged for him to work aboard the merchant ship, St. Lawrence, as a cabin boy in 1839. Melville traveled on the ship from New York City to Liverpool, England. Afterward, Melville continued working on ships for a number of years and, in doing so, traveled to a number of exotic destinations. His first novel, "Typee" (1846), is a romanticized account of one of his voyages to French Polynesia. When Melville returned to his family in 1844, he found that the family's finances had improved. After his older brother died unexpectedly, Melville took on full responsibility for supporting the family with his writing. However, Melville faced a cooling reception for his work as he continued to write."Moby-Dick," published in 1851, received little attention. When he was only 33, facing a failed career, Melville was driven to the point of a near mental breakdown. Melville gave up fiction for poetry, but did not receive much acclaim. Although he was to become one of the most celebrated American writers by the end of the 1940s, Melville never received the recognition he sought during his lifetime.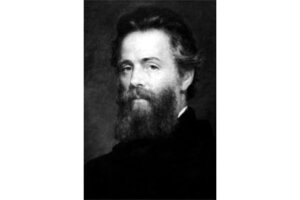 1.

Comprehension is more than words

"A man thinks that by mouthing hard words he understands hard things."