JFK White House recordings: 8 excerpts from the new book
This year, to mark the 50th anniversary of the presidency of John F. Kennedy, the John F. Kennedy Library Foundation has released a collection of secret recordings that were made in the White House's Oval Office and Cabinet Room during the JFK presidency. Compiled by historian Ted Widmer, the book "Listening In" includes excerpts from some of the more engaging of those conversations.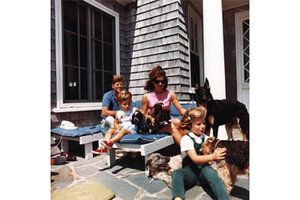 Cecil Stoughton, White House/Courtesy of John Fitzgerald Kennedy
1.

Caroline Kennedy's memories

John F. Kennedy's daughter Caroline Kennedy wrote the forward to "Listening In." Caroline, who was born in 1957, writes of the White House conversations that "although at the time I was too young to understand much of what was happening, I recall spending happy afternoons eating candy and making paper-clip necklaces under my father's desk while men talked in serious voices. The delight in my father's voice when my brother and I appear is something I treasure."