Hillary Clinton: 10 quotes on her birthday
Hillary Rodham Clinton was born on Oct. 26, 1947 in Chicago, Illinois. She began attending Wellesley College in 1965 and was elected senior class president in her last year. When she graduated in 1969 she became the college's first student commencement speaker and her remarks drew national attention. Clinton went on to study at Yale Law School and it was there that she met her future husband, Bill Clinton. After graduating from Yale with highest honors, Clinton went to Washington, DC, to work as a Congressional legal counsel during the Watergate scandal. In 1974 Clinton moved to Arkansas and married in 1975, embarking on a legal career in that state. When her husband was elected 42nd president of the United States, she became First Lady, a role she filled from 1993 to 2001. From 2001 to 2009 Clinton served as a US senator from the state of New York. Clinton lost the primary race to Barack Obama, but accepted his offer to became US Secretary of State when he was elected to the presidency.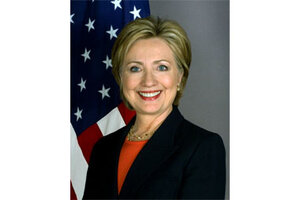 1.

Women

"There cannot be true democracy unless women's voices are heard. There cannot be true democracy unless women are given the opportunity to take responsibility for their own lives. There cannot be true democracy unless all citizens are able to participate fully in the lives of their country."