Michael Jackson: 10 quotes on the 30th anniversary of "Thriller"
Michael Jackson, known as the King of Pop, was born on Aug. 29, 1958, in Gary, Indiana. His talent as a singer and performer was recognized early on and he became the lead singer of his family's Motown group, Jackson 5. Most of Jackson's childhood was spent working. In 1968, Berry Gordy signed the Jacksons onto a label. In January 1970, their single "I Want You Back" from their first album, "Diana Ross Presents the Jackson 5," reached number one on the Billboard Hot 100 chart. Hits such as "ABC," "The Love You Save," and "I'll Be There" soon followed. When Jackson was 13, his own album reached the top charts in 1971 with the song "Got to Be There." By the 1980s Jackson was one of the central figures in pop music. His music videos for songs such as "Beat It," "Billie Jean," and "Thriller" played a key role in popularizing music videos as a form of art and promotional tools. His album "Thriller," released on Nov. 30, 1982, is still the number one selling album in history. Jackson's unexpected death in 2009 shocked and saddened his millions of fans worldwide.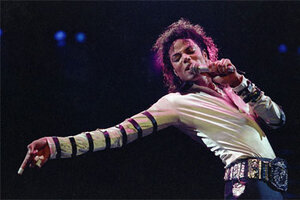 1.

Being loved

"If you enter this world knowing you are loved and you leave this world knowing the same, then everything that happens in between can be dealt with."