10 pieces of wisdom from 'Because I Said So'
'Jeopardy' champion and author Ken Jennings examines those pieces of wisdom we learned from our moms in his new book 'Because I Said So.' Will gum really stay in your stomach for seven years? Is your life really at risk if you swim after eating? Here are 10 of the "mom myths" Jennings examines in his book.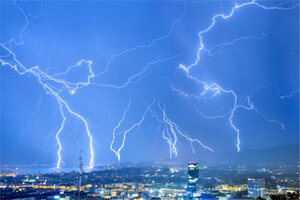 1.

Staying away from a window during a thunderstorm

Parents always tell children eager to watch storms to stay away from windows while lightning is flashing. Technically, they're right – Jennings says that lightning can go through a window that's closed, and there's often metal on a window, which can electrocute you. However, while it's never a bad thing to be on the safe side, Jennings says there are only about 300 lightning mishaps a year in America. That puts chances of you being hurt by a storm at what is actually one in a million. "There are also costs to never getting to watch a dramatic lightning storm pass by, poetry-of-the-soul costs not easily measured by actuaries or the National Weather Service," Jennings writes.