3 compelling photo books for gifting this winter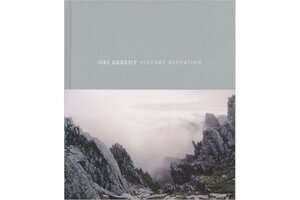 3.

'Ori Gersht: History Repeating,' by Ori Gersht

Ori Gersht is an Israeli-born photographer/filmmaker whose oeuvre is as deeply embedded in political history as in art history. Schooled in the great pictorial masters, he employs saturated colors and fine detail. But instead of a paint palette, he incorporates the latest digital technology, regaining the richness of the past through high-definition photography. The result is a visual continuum that marries past with present to underscore historical landscapes. Gersht's images work on many levels, pushing the eternal human quandary of creation and destruction beyond merely imitating the old or simply toying with the latest gadgetry.

Gersht, who has earned a retrospective show at Boston's Museum of Fine Arts, collaborated with the MFA in producing the monograph "Ori Gersht: History Repeating." Now living in London, Gersht spent his childhood in Tel Aviv during four Israeli wars. His relatives were victims and survivors of World War II, perhaps the reason his work often explores war-torn landscapes.

In "Pomegranate 2006," Gersht riffs on 16th-century Spanish master Juan Sanchez Cotan's "Quince, cabbage, melon, and cucumber" by replacing the quince with a pomegranate, which symbolizes prosperity but also shares an identical spelling with the word "grenade" in several languages, including Hebrew. In the same series (and film), he also borrows from Harold Edgerton's famous photo of a bullet shot through an apple. Gersht sends the bullet through the pomegranate.

Resilience is a part of Gersht's narrative. For his photo series "Chasing Good Fortune," he traveled to Japan where he photographed cherry blossom trees growing in the irradiated soil of Hiroshima. "Isolated" was taken at night with a minimum of illumination, producing bold images of blossoms dissolved into their elemental state.

"Hide and Seek" explores the hidden places where people sought refuge from political turmoil in Poland and Belarus. The views, obscured by fog and mist, are almost monochromatic. In "Boatman, 2009" the tiny undefined figure is swallowed by the blue landscape. He is hidden but in plain view. It is a poignant visual expression of escaping to safety.

This book makes a fine introduction to Gersht's work. Curator Al Miner's introduction and Ronnie Baer's interview with Gersht give the reader a compelling sense of why this photographer's work matters.

Joanne Ciccarello is a Monitor staff photographer.