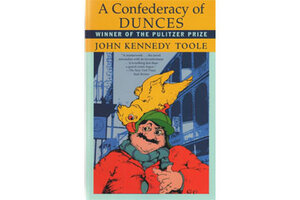 3.

"A Confederacy of Dunces," by John Kennedy Toole

Plot summary: This novel's brazen, befuddled antihero, Ignatius J. Reilly, is the involuntarily entertaining, completely mislead, yet strangely likable, adult student still living in his mother's home in New Orleans. As he searches haplessly for a job, Ignatuis comes into contact with strippers, philanderers, and other comedic characters; complains about the imbecility of people; and ponders his greatest achievement, "The Journal of a Working Boy."

Starring: Rumor has it that Zach Galifianakis will star as Ignatius.

Release date: 2013, to be announced.