Michelle Obama: 10 quotes on her birthday
Born in Chicago on January 17, 1964, Michelle Obama is a graduate of both Princeton University and Harvard Law School. While working in Chicago at the law firm Sidley Austin, she met the man who would become president and married him on October 3, 1992. They moved into the White House with their two children Malia and Sasha on January 15, 2008. The current first lady has championed health and fitness for children, even starting an organic garden on the White House grounds. As the self-described "mom-in-chief" of the First Family, Obama has won praise from many as a hard-working, public-spirited, and compassionate parent.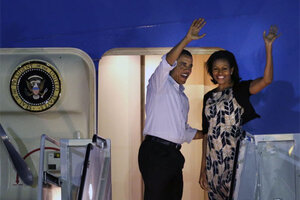 1.

On the American Dream

"Barack knows the American dream because he's lived it... and he wants everyone in this country to have that same opportunity, no matter who we are, or where we're from, or what we look like, or who we love. And he believes that when you've worked hard, and done well, and walked through that doorway of opportunity... you do not slam it shut behind you... you reach back, and you give other folks the same chances that helped you succeed."