Banksy: 7 stories from 'The Man Behind the Wall'
Like him or loathe him, English graffiti artist and political activist Banksy has catapulted himself onto the modern art world stage. Using well designed and artfully conceived stencils to make his mark in public spaces from California to Israel, Banksy has achieved global recognition for his art. And yet he has managed to conceal almost every personal detail – including his real name – from the public. "Banksy: The Man Behind the Wall" by journalist Will Ellsworth-Jones is an unauthorized biography that details Banksy's rise to prominence and profiles his outsider/insider status in both the high art world and on the street level. His anonymity is an integral part of his appeal in the Internet age. How can we not know the name of a man whose artistic "face" is recognized around the globe?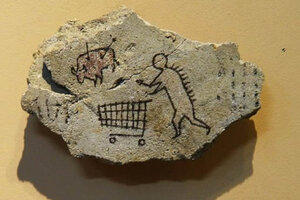 1.

Infiltration

When Banksy was still relatively unknown, he would sneak his original art into museums and put it up on the walls with little placards describing the piece. Back then, he was described as an "art terrorist" gluing "fake" art up in The Natural History Museum, the Louvre, the Tate, and the British Museum.