On Earth Day 2013: 13 excellent books to consume
Environmentalists are sometimes seen as modern-day apocalyptic prophets – a group of seers doing their best to wake the rest of us up before it's too late.
The environmental movement started out with transcendentalism and conservationism and efforts to protect natural sites. Nowadays, however, many environmentalists tend to focus on the food industry and modern consumerism – areas that are closer to home for the average reader. To celebrate Earth Day, here are 13 classic environmental titles to help reconnect you with nature.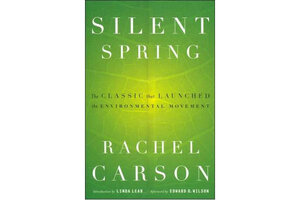 1.

"Silent Spring," by Rachel Carson

Let's start at the very beginning, a very good place to start. Rachel Carson's book about the effect of DDT and pesticides on the environment sparked the modern environmental movement. Even without the historical context, it's still a fantastic read and surprisingly relevant. First published in 1967, it put Carson on the list of Time's 100 most influential people of the century list.