'Mary and Lou and Rhoda and Ted': 8 stories from the making of 'The Mary Tyler Moore Show'
From the actors in the now-classic ensemble to the innovative creative types behind the scenes, a large team shares the credit for creating one of the most beloved TV shows of all time. Writer Jennifer Keishin Armstrong explores how the show got started and its impact on pop culture in her new book 'Mary and Lou and Rhoda and Ted.' Here are a few of the backstage stories.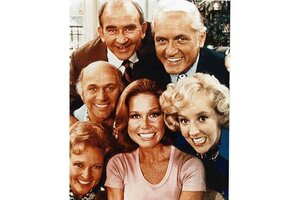 1.

Ill-timed joke

Pat Nardo was initially hired as secretary to "Mary Tyler Moore Show" co-creators James L. Brooks and Allan Burns and would later become a writer on the show. After the initial interview that won her the job, Nardo's new bosses invited her to a meeting they were attending. As they drove across town, Brooks and Burns were talking about how terrible they found most of television. "Talk about a bad show," Nardo remarked. "How about that 'My Mother the Car'?" The show had been co-created by Burns, and there was an awkward silence. Nardo had had no idea the show was Burns', but she instantly guessed. "And you wrote it," she sighed.