Salman Rushdie: 10 quotes on his birthday
British-Indian author Salman Rushdie first gained international attention when his second novel "Midnight's Children" won the Booker Prize in 1981. But it was Rushdie's fourth novel, "The Satanic Verses," published in 1988, that caused his fame to escalate. In 1989 Iran's Ayatollah Khomeini issued a fatwa, or death sentence based on Islamic law, against Rushdie, and he was forced into hiding for the next nine years. In some ways, his career has since been defined by that experience.
Here are 10 quotes from Sir Rushdie.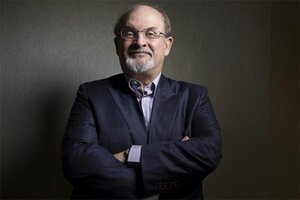 1.

Ignorance leads to arrogance

"I do not envy people who think they have a complete explanation of the world, for the simple reason that they are obviously wrong."

– Talking with David Frost (1993)