5 books about Diana, the people's princess
Diana, Princess of Wales, was born Diana Francis Spencer, on July 1st, 1961. She was killed 36 years later, in a car crash in Paris, in 1997. Diana, remembered as "the people's princess," earned love and admiration through her passion for helping others. Diana's impact continues to be felt today, both in terms of the humanitarian causes that she supported, and the living legacy that she left behind in the form of her two sons. Her first-born, Prince William, the heir to the British throne, is now expecting his first child with his wife Kate. A movie covering the last two years of Diana's life is expected to be released in September of this year. Here are five books that offer insight into the life of "the people's princess."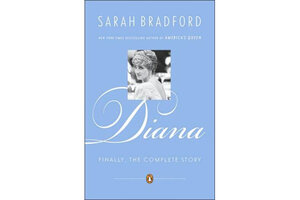 1.

"Diana," by Sarah Bradford

Royal biographer Sarah Bradford accesses new sources and makes it her personal mission to separate the truth about Diana from the gossip. Having already written about George VI and Queen Elizabeth II, Bradford draws on her own experience as a biographer to produce a dignified and solid account of the life and marriage of the nervous schoolgirl who married royalty and became a global icon.