10 best books of August: the Monitor's picks
What did the Monitor's book critics most enjoy reading in the month of August? Everything from a biography of Lawrence of Arabia to an eye-opening account of the evolution of that most basic of American freedoms – the freedom of speech. Here are the 10 titles the Monitor's book critics are recommending this month.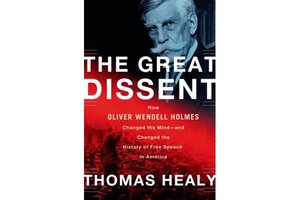 1.

"The Great Dissent," by Thomas Healy

Law professor Thomas Healy's first book, The Great Dissent, is a vivid account of the social, political, and intellectual undercurrents that affected early 20th-century lawmaking – specifically, the right of Americans to freedom of speech. Healy tells the story of the steady process of intellectual and personal evolution that caused Supreme Court Justice Oliver Wendell Holmes to change his mind about the degree of freedom that Americans should be allowed. In the process, Holmes helped to change a nation. Healy's account is a stirring mix of intelligent biography and truly significant social and legal history. You can read the Monitor's full review of "The Great Dissent" here.