'The Smartest Kids in the World': 6 stories about students from Amanda Ripley's book
For her book 'The Smartest Kids in the World,' journalist Amanda Ripley follows American teenagers Kim, Eric, and Tom as they go to Finland, South Korea, and Poland, respectively, to attend school. Why are these countries performing so much better than the US when it comes to education? Here's some of what Ripley and the three students discovered as well as stories from their time abroad.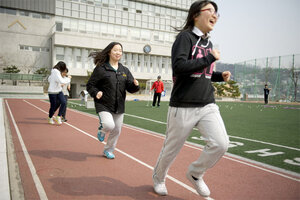 Ann Hermes
1.

Enthusiastic greetings

One of the three students, Eric, had already graduated high school in the US and planned to attend a high school in South Korea for one year. One day before he officially began, he, his host mother, and another exchange student, from Canada, looked around the school. Eric was completely unprepared for the reaction from the students when they saw him and the Canadian student. "First one girl and then another and soon dozens of girls were screaming in unison," Ripley wrote. "Students from other classrooms spilled into the hallway to investigate. Groups of girls approached in gaggles, still shrieking, which was when Eric realized this commotion was for them... A boy reached out to high-five him, and he cautiously compiled. 'We're rock stars,' he whispered to the Canadian girl."