'Drama High': 7 stories from behind the scenes of a life-changing drama program
Harry S Truman High School's drama program, run for decades by teacher Lou Volpe, not only takes on controversial musicals like 'Spring Awakening' and 'Rent,' it produces Emmy-winning alumni and has influenced the lives of thousands of children. Here are seven stories from "Drama High," Michael Sokolove's book about the award-winning theatrical program.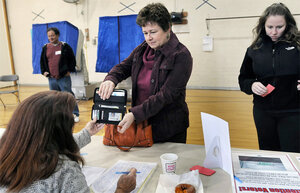 Kim Weimer/Bucks County Courier Times/AP
1.

Unexpected setting

"By the measures that seem to matter most, Truman High is, at best, second-rate," Sokolove wrote. "Its students do not excel at standardized tests, and few of them ever go off to Ivy League colleges... the high school has one principal mark of distinction: Volpe's astoundingly successful drama program. Younger students know of him long before they reach Truman and hope to one day be in his shows. He is like the winning football coach in some down-on-its-luck Ohio or Texas town – a beacon, a sign that grand achievement is possible, albeit unlikely. Schools with vastly greater financial resources, boasting higher-achieving students born to wealthier parents, cannot match the quality and accomplishments of Truman Drama. No one can."