'Poking a Dead Frog': 10 thoughts on comedy from some of its best writers
How does the best comedy get created and how did some of the industry's best writers get their start? Writer Mike Sacks sat down with stand-up comedians as well as movie, and TV writers to see how they hone their craft and what advice they would offer to those who want to get into the business. Here's some of what they shared.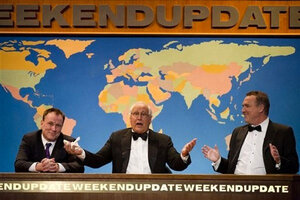 AP
1.

'Saturday Night Live' changes

James Downey, who wrote for 'SNL' for almost its entire run and retired in 2013, worked with 'SNL' cast member Norm Macdonald when Macdonald hosted the 'Weekend Update' segment of the show. Downey said he admired Macdonald's fearlessness as a performer. "He doesn't fear silence at all," Downey said. "Norm would sometimes hang on an Update joke because he wanted to make it clear to the audience that yes, the joke is over, but we still thought it was funny. He didn't make the panic move of quickly jumping to the next joke so he didn't have to hear the silence. He wanted to give people a chance."