10 best books of August 2014, according to Amazon's editors
From a 19th-century polar expedition to a fictional exploration of several generations of an Irish family to a consideration of South Korean pop culture and its spread across the globe, Amazon's picks for the 10 best August 2014 titles cover lots of territory. Amazon editorial director Sara Nelson shares comments on each book with the Monitor.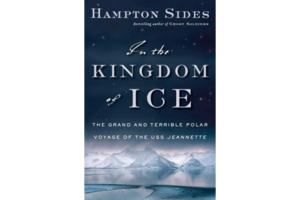 1.

'In the Kingdom of Ice,' by Hampton Sides

This gripping nonfiction book by "Ghost Soldiers" writer Sides looks back to the 19th century to tell the story of the USS Jeanette and the explorers who traveled on her to the North Pole. After New York Herald owner James Gordon Bennett funded an expedition to the mysterious region, George Washington De Long led 32 men through never-before-mapped stretches of ocean. Forced to leave the ship behind, they found themselves on land a thousand miles north of Siberia with minimal supplies. Nelson describes the book as "a cross between [the TV show] 'Lost' and a boys' adventure story.... [I]t's got something for everyone."