Bestselling books the week of 11/20/14, according to IndieBound*
Created by the American Booksellers Association, the IndieBound bestseller list uses data from hundreds of independent bookstores across the country to determine which books are flying fastest off the shelves on any given week. This week, some of the bestselling titles flagged by the stores that report their data to the ABA include "All Days Are Night" by Peter Stamm and "Sometimes The Wolf" by Urban Waite. Check out the full IndieBound list below.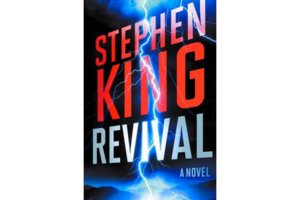 1.

HARDCOVER FICTION

1. Revival, by Stephen King, Scribner
2. Gray Mountain, by John Grisham, Doubleday
3. All the Light We Cannot See, by Anthony Doerr, Scribner
4. The Burning Room, by Michael Connelly, Little Brown
5. Let Me Be Frank With You, by Richard Ford, Ecco
6. Leaving Time, by Jodi Picoult, Ballantine
7. Lila, by Marilynne Robinson, FSG
8. Prince Lestat, by Anne Rice, Knopf
9. The Slow Regard of Silent Things, by Patrick Rothfuss, DAW
10. The Narrow Road to the Deep North, by Richard Flanagan, Knopf
11. The Goldfinch, by Donna Tartt, Little Brown
12. Blue Horses, by Mary Oliver, Penguin Press
13. Edge of Eternity, by Ken Follett, Dutton
14. Colorless Tsukuru Tazaki and His Years of Pilgrimage, by Haruki Murakami, Knopf
15. The Book of Strange New Things, by Michel Faber, Hogarth

On the Rise:
16. Flesh and Blood, by Patricia Cornwell, Morrow
A highly entertaining new Scarpetta novel by the bestselling author of Dust.