Javascript is disabled. Quiz scoring requires Javascript.
How well do you know Greek mythology?
Allusions to Greek mythology crop up everywhere from Sigmund Freud's theories to the "Hunger Games" books. Test and refresh your knowledge of this infinitely fertile material with this quiz.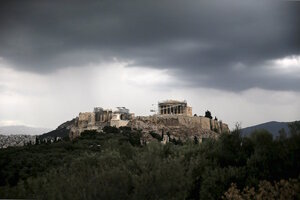 Alkis Konstantinidis/Reuters/File
1.

This Greek goddess sprang from the head of Zeus fully formed: and clad in armor.