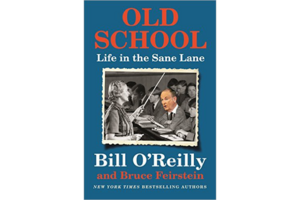 2.

HARDCOVER NONFICTION

1. Hillbilly Elegy, by J.D. Vance, Harper
2. The Hidden Life of Trees, by Peter Wohlleben, Greystone Books
3. The Book of Joy, by The Dalai Lama, Archbishop Desmond Tutu, Avery
4. Old School: Life in the Sane Lane, by Bill O'Reilly, Bruce Feirstein, Holt - Debut
5. South and West, by Joan Didion, Knopf
6. The Stranger in the Woods, by Michael Finkel, Knopf
7. Unshakeable, by Tony Robbins, S&S
8. When Breath Becomes Air, by Paul Kalanithi, Random House
9. A Colony in a Nation, by Chris Hayes, Norton
10. Homo Deus, by Yuval Noah Harari, Harper
11. Born a Crime, by Trevor Noah, Spiegel & Grau
12. Dear Ijeawele, or a Feminist Manifesto in Fifteen Suggestions, by Chimamanda Ngozi Adichie, Knopf
13. Killing the Rising Sun, by Bill O'Reilly, Martin Dugard, Holt
14. Emotional Intelligence 2.0, by Travis Bradberry, Jean Greaves, Talentsmart
15. The Undoing Project, by Michael Lewis, Norton
On the Rise:
16. The Rules Do Not Apply, by Ariel Levy, Random House
Levy's book is a gorgeous memoir about overcoming dramatic loss and finding reinvention.